Byronicart
Web Redesign | SEO | Content Management
Byronicart.com was a 5 page website with a gallery of about 1,000 images spread across 15-20 categories. The site had extremely slow load times and was in need of SEO, with load times from 8 seconds to minutes and was only generating between 0-3 organic searches per month.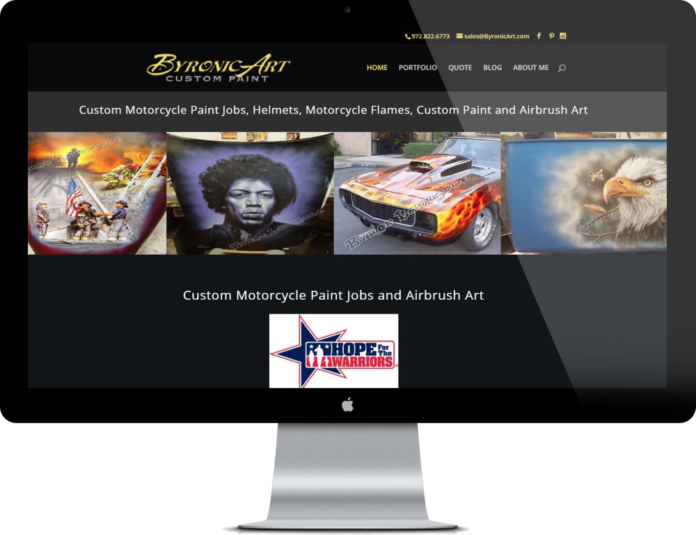 LANDING PAGE
We started with a clickable phone number at the top of the page so mobile phone users can click to call, no dialing numbers. A carousel was added to display some of the many images that this site has to offer.
MOBILE FRIENDLY
Byronicart.com is fast and mobile friendly on any device. The easy to navigate pages load quickly and displays their many beautiful images.
PROJECT RESULTS
The original request was to decrease load time and increase their google search ranking. A gallery of 200 images now loads in 3.42 seconds versus the 42 seconds it was taking. Currently google analytics shows Byronicart.com has 45 keyword groups in the top 20 search results and 10 keyword groups in the top 10 search results. These numbers have been climbing every month.
Excellent and professional service! My basic website was completely redesigned and upgraded to suit my business needs more effectively. Extremely happy with the service and ongoing communication and maintenance! Highly recommended for business website design large or small! AAA++++
Byron Lawrence
Contact Us
Your dedicated full service web design agency
11108 Chennault Beach RD APT 1424 Mukilteo, WA 98275
Serving:
Roanoke
Keller
Southlake
Fort Worth
Dallas
Grapevine
Online anywhere